About Us
Hi-Tech Nutraceuticals is a rapidly growing, fully integrated nutritional and dietary supplement manufacturer that develops, manufactures and distributes the highest quality finished products. The pharmaceutical, contract manufacturing, dietary supplement and ingredient divisions are capable of producing a wide variety of quality products, in all dosage forms, at competitive prices. We specialize in pilot batches, short runs, and fast turn-around times.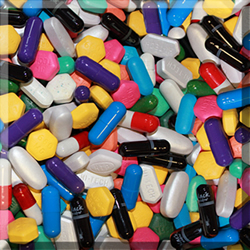 The highly efficient, onsite, FDA registered (No. 1819875) Current Good Manufacturing Practice (cGMP) production facility and fully automated packaging line assures that even custom products can be delivered on short notice. From conception to completion, Hi-Tech integrates cost efficiency and an uncompromising dedication to high quality life science manufacturing. Our company is constantly growing and we encourage you to come back often to witness our innovation.
Vision: Starting in 2013 Hi-Tech will refocus on the development and distribution of a wide range of nutritional supplement products, in addition to our strong contract manufacturing, dietary supplement and ingredient businesses. Hi-Tech is vertically integrated from the development and production of substances to the development, manufacturing and packaging of finished dosage forms. Our active development team is committed to adding several projects to the company's pipeline every year.
Hi-Tech's vision is to be a leading company in the development, manufacturing and distribution of first-class nutritional supplements and dietary supplements in the international market. Hi-Tech will attain this visionary status by offering products that are compatible with our capabilities and consumer needs. Our goal is to aggressively battle cost, forecast consumer needs, anticipate problems before they arise and be responsive to rapidly changing market demands. We hold ourselves to an extraordinarily high level of excellence.
Hi-Tech at a Glance:


President
Jared Wheat
Key Advisors
Cliff Kerstetter, Sherry Thompson
Corporate Headquarters
Reedsville, Pennsylvania
Founded
1979
Primary Business and Operations
Generic Pharmaceutical Development and Manufacturing
Contract Manufacturing
Dietary Supplement Product Manufacturing
Product Portfolio
More than 50 stock Dietary Supplements and numerous contract manufacturing deals.
Commercial Footprint

United States, Asia, Eastern Europe and South America

Manufacturing Capacity
Over 200,000 square feet, with current capacity for tablet and capsule manufacturing exceeding 45 billion per year.
Hi-Tech Nutraceuticals has impressive capabilities to supply the global demand of dietary supplements. On an annual basis, Hi-Tech Nutraceuticals can manufacture 35 billion tablets and 10 billion capsules. Hi-Tech Nutraceuticals can also package 500 million bottles, 250 million blister packs, and 150 million pacquettes.
| | | | |
| --- | --- | --- | --- |
| | Dosage Form | | Annum |
| | Capsule ( Powder & Hard Gelatin ) | | 10,000,000,000 Cap |
| | Capsule (Pellets) | | 1,000,000,000 Cap |
| | Capsule (liquids) | | 1,000,000,000 Cap |
| | Bi-layered Tablet | | 10,000,000,000 Tablets |
| | Tablets (total) | | 35,000,000,000 Tablets |
Hi-Tech's "Private Label" flexibility has caused many companies to turn to us to custom manufacture their products. Hi-Tech is able to handle any size customer, whether large or small. Whether you are a company looking for a quality manufacturer to meet your "Private Label" needs, or a consumer looking for the best generic OTC products on the market….It's time to change. Compare, ingredient for ingredient, Hi-Tech Nutraceuticals manufactures products that are one better than the competition! Give Hi-Tech a try and we will not disappoint you.
Hi-Tech Nutraceuticals specializes in Nutritional Supplement Manufacturing, Dietary Supplement
Manufacturing, Private Label Nutritional Supplements, and Private Label Dietary Supplements.
Copyright © 2023 Hi-Tech Nutraceuticals, Inc.
Atlanta Web Design by Griffin Web Design
.