Why Hi-Tech
Hi-Tech Nutraceuticals, a diversified nutritional supplement and drug company headquartered in Reedsville, Pennsylvania, is a contract manufacturer and private labeler of thousands of branded, high quality nutritional supplements, teas, powder drinks and drugs.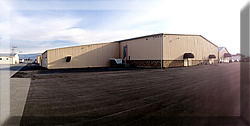 Hi-Tech Nutraceuticals is a fully licensed drug manufacturing facility. We are also GMP certified for dietary supplements What this means to our customers is that every product we produce is handled as a life-sustaining drug with the same quality in-process checks, tests and standards, to assure the highest quality products.
When health is at stake, there can be no compromise. We understand that your valued customers - who trust your products - expect only the best. To retain and grow your customer base, you must affiliate yourself with a company that meets your requirement and exceeds your expectations.
HI-TECH has capacity. We are one of the largest custom contract manufacturers of nutritional supplements in the United States. Our advanced 200,000 sq. ft. GMP manufacturing and packaging facility can produce more than 4 billion doses per month.
HI-TECH is reliable, stable and dependable. Under continuous family management since 1979, we place high value on our well-deserved reputation as a trusted industry leader. Our expert and dedicated management team averages more than 20 years of broad industry experience.
HI-TECH has hundreds of satisfied customers. We develop and manufacture cost-effective, market-leading products in every distribution channel, including retail, professional lines, branded, direct-to-consumer (Internet and catalog), and direct response TV and radio.
HI-TECH is flexible. Our modern, high-speed and custom-scalable process equipment can deftly handle both large and small production runs. We can give your product eye appeal with a full range of in-house packaging options including bottles, blisters, pouches, packets, jars, and kits.
As a valued strategic partner, Hi-Tech Nutraceuticals offers a comprehensive program of services, turnkey solutions, and client support that is unmatched in the industry. Our product development team can provide customized, proprietary formulations designed specifically to meet the needs of our customers and their method of distribution. Our vertically integrated manufacturing and packaging process allows us to schedule flexible production runs to respond quickly to shifting market demands. Every step of the way, we are committed to your growth and success.

Hi-Tech Nutraceuticals specializes in Nutritional Supplement Manufacturing, Dietary Supplement
Manufacturing, Private Label Nutritional Supplements, and Private Label Dietary Supplements.
Copyright © 2023 Hi-Tech Nutraceuticals, Inc.
Atlanta Web Design by Griffin Web Design
.